Emma Cons Gardens is the public square in front of the Old Vic, at the junction between The Cut and Waterloo Road. You can see it in the aerial view below or on a map

here.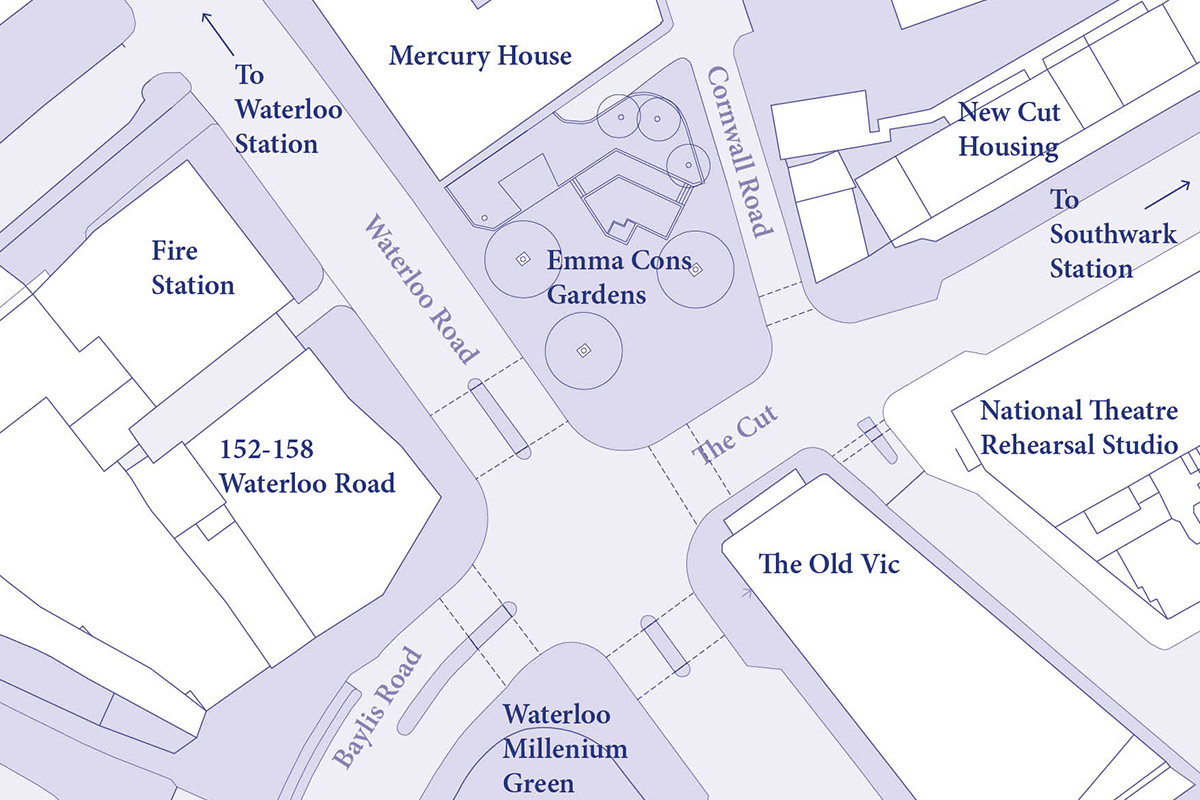 What is this project about?
Emma Cons Gardens is being reimagined to create a new public space in the heart of Waterloo. A steering group of local organisations has come together to lead this process and is inviting residents, businesses, workers and visitors to share their ideas for a new Emma Cons Gardens.
What is the site like now?
Emma Cons Gardens is in the heart of Waterloo but it does not currently fulfil its potential. The space has some large trees and is largely paved with some raised grass beds, providing limited facilities compared to other public spaces.
The two images below show what Emma Cons Gardens looks like during the day, and an example of one way it has been used in the evening in the past, for Christmas lights.
The square is in an important position. It links The Cut with Lower Marsh, forms part of important walking routes through the area, and sits directly in front of the Old Vic Theatre and across the road from Millennium Green.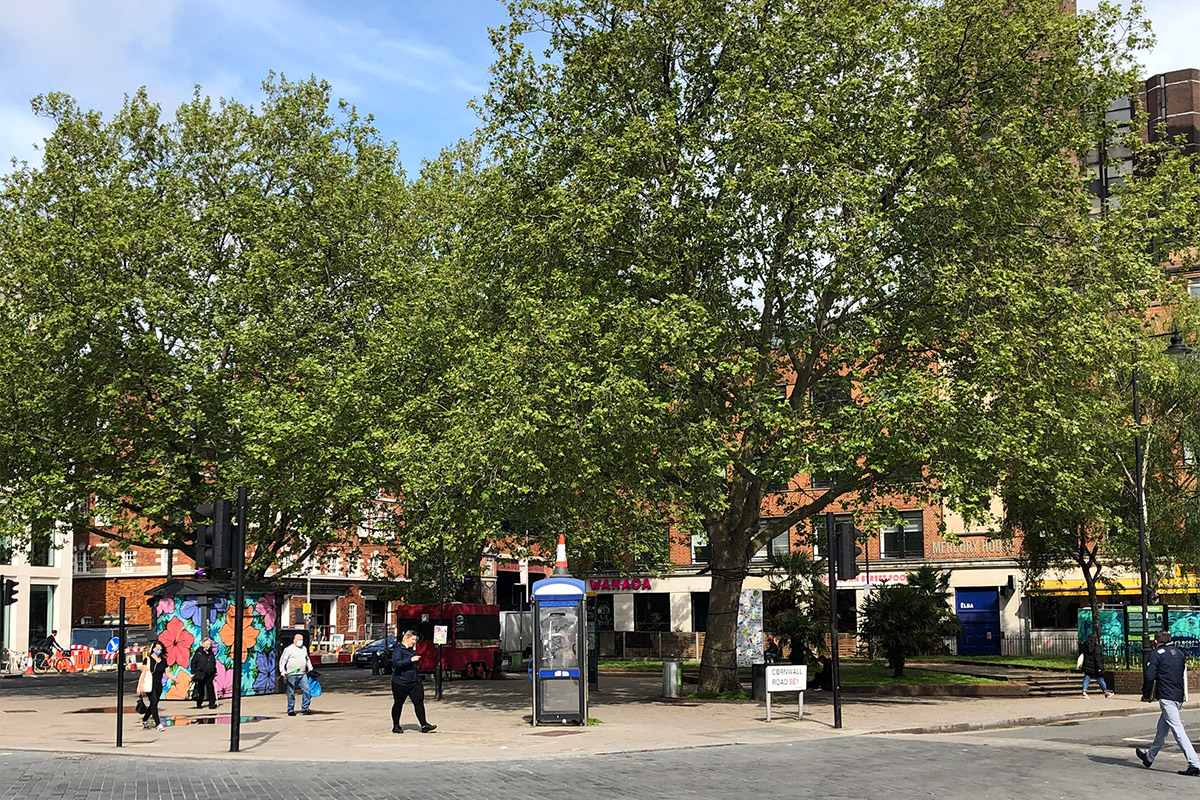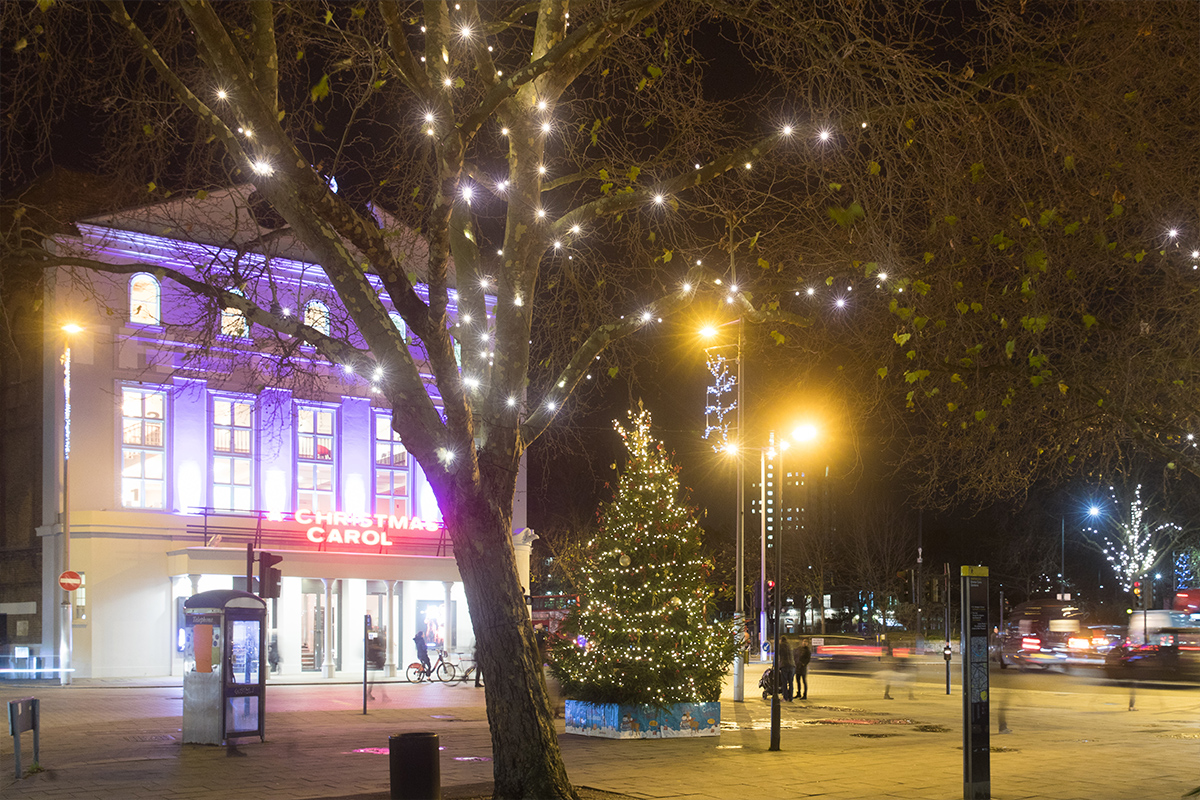 What else is happening nearby?
There are a number of plans for the surrounding buildings that will affect Emma Cons Gardens. These include proposals for Mercury House and The Old Vic Annexe, the OCCC Estate, and a possible new building on the corner of Cornwall Road and the Cut. There are also proposals for improving public spaces nearby including a plan for Millennium Green.
What has happened so far?
A number of plans to improve Emma Cons Gardens have been prepared in the past but not implemented. In 2021, a group of local community organisations formed the Emma Cons Gardens Steering Group (ECGSG) alongside the Council to come up with new designs for the square.
During summer 2021, a survey and public engagement project was carried out asking to hear your views on how Emma Cons Gardens could be improved.
To view the report please see a link below:
Engagement Report October 2021
In July 2021, the ECGSG held a competition to appoint design specialists. The successful bidder, Farrer Huxley was selected to create a design informed by the consultation process.
A second consultation event was held in November 2021 to explore local history and the future possibilities for a re-imagined place. Farrer Huxley have taken away the insights gathered and developed design proposals for Emma Cons Gardens.
The proposed concept design was shared on site on 31st March and 2nd April (and here on the website from 31st March - 10th April) in order to have your feedback.
What will happen next?
The engagement process has provided valuable insights which will help us to finalise the design ready to submit for Planning Approval.